Faucet fixtures are available at building supply stores, hardware stores, and plumbing supply stores. Many products are also available for order on-line.
Faucet aerators are available at any hardware or building supply store.
All faucet fixtures manufactured in the U.S. must comply with federal standards restricting the maximum flow rate below 2.2 gpm.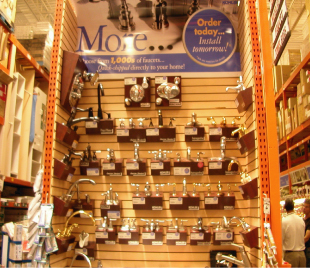 Most retail stores that carry faucets offer a wide variety of makes and models. Photo source: Aquacraft, Inc. by permission.